Wow, this month has been hectic. I've been so busy trying to sort my life out I feel like I rarely sit down and write anything. Definitely need to work on my blog post ideas next month!
Clothes and Beauty
L'oréal Infallible Matte Foundation
This one was definitely MVP when it came to the hot weather at the beginning of July. I hate hot weather (pale skin, ginger hair and a foggy brain do not mix with 30 degree temperatures). This stuff really does last. I left the house at 7am, went to my volunteer job, left at 5pm to go for tea with my family then went to see Fleetwood Mac at the MEN Arena. I got home and it was still there. With no touch ups. This foundation is boss, and recently I've just decided that I prefer the matte look; dewy foundations just make my skin look too shiny. It feels a little bit thick at first, but it's fine with moisturiser or primer underneath. I've still got a fair bit left, but I think when this runs out I'll definitely repurchase!
Clean and Clear Deep Cleansing Lotion For Sensitive Skin
As a whole, I have pretty good skin. But when I break out, I break out. I thought I didn't need spot treatments any more, but then I found myself repurchasing this halfway through July. It's just my go to product to clear up my face, especially when you have a single massive spot that just wont shift. This stuff basically clears out your pores and dries out your skin. I dab a bit on a cotton pad like I would with any other cleanser. I usually put it on before I go to bed, after I've taken off my make up. It has quite a strong smell and feels quite harsh on your skin sometimes, but it really really helps clear your skin of blemishes. It also lasts forever, so at £3 it's really good value for money.
Books
Attachments - Rainbow Rowell
I love Rainbow Rowell's writing style, but was always unsure about this one. The premise just seemed a bit weird to me - two girls email each other across the office, guy in IT reads their emails, falls in love. Sounds almost like a stalker fantasy? But Attachments definitely is not. I really enjoyed reading it, and it's nice to have slightly older characters than in some of Rowell's other books. In my opinion it's better than Eleanor and Park but not as good as Fangirl. I liked the structure and style, as well as the pop culture references. Now I just have to decide whether I should read Landline...
A Court of Thorns and Roses - Sarah J Maas
I find the whole YA genre a tricky one to traverse, considering that I'm 22. I am very careful about what I do and don't purchase, and read a million and one reviews before deciding anything. I just feel like a lot of YA books are samey - they often have rehashed plots and Mary-Sue characters. Anyway, A Court of Thorns and Roses is a funny one. I saw one person on Goodreads describe the protagonist as "Bella Swan trying to be Katniss Everdeen". And I can see where she was coming from. Except those two characters are ones who seem to annoy me quite a bit; Feyre is a bit more likable. The first half is quite slow paced, following a similar kind of plot as Beauty and the Beast. The second half is a complete flip. It had me reading around 150 pages in one sitting. There's action and drama as Feyre battles the bad guys (trying not to spoil anything). I'm surprised that I'm saying this, but I can't wait for the sequel. But I will be very annoyed if Maas pursues the potential love triangle - biggest pet peeve when it comes to YA books. If anyone is interested, I can do a full review of this book?
Film/TV
Inside Out
What can I say? Pixar films, they just can't go wrong. And this one hit me right in the feels. I think I need to go and see it again, just so that I can appreciate it some more. What's funny, and a little bit pathetic, is how much I related with sadness. July was a tough month for me, and sometimes I just want to lie face down on the floor. But as the film tells you, it's okay to be sad sometimes. But yeah, Pixar can do no wrong.
Ant Man
Ant Man was such a pleasant surprise. I kind of grumbled a bit on the way to the cinema because Kris insisted we go on a Saturday morning into Cardiff, meaning that we left the house at half 9. But I'm glad that he dragged me out of bed. Much like A Court of Thorns and Roses, the film was a slow burner; the second half of the film is what made it a July favourite. And I do love Paul Rudd, his sense of humour is great - action films with no comedy just seem to bore me.
Food
Lactofree Chocolate Milk
Sometimes I just get a hankering for milkshakes. I think it's increased more so since I became lactose intolerant. The forbidden drink. So when I discovered this whilst doing a food shop, I knew that I had to have it. It's not the best chocolate milk I've ever tasted, but it makes me so happy that it exists (I can't drink soy milk either and chocolate oat milk is a bit weird). Plus, for some reason when you buy lactose free milks, people don't want to drink any of it because they feel bad that they can stomach normal milk. Which means you don't have to share!
Hot Vimto
I'm particularly fond of this mug, which I got for Christmas from Kris
Have realised that I haven't really got a photo of this to show you, but you get the idea. This is along the same vein of lactose troubles - I struggle with what to drink at work, and don't go in enough days a week to justify buying a whole bottle of Lactofree milk for myself. I don't mind black coffee, but know I shouldn't drink too much because it can mess with my stomach, and I don't really like tea (a Brit who doesn't like tea? What a travesty!). So, after spotting someone else drink a hot Vimto, I thought I'd give it a try. It's so good! It's sweeter than fruit tea, almost like mulled wine. And it's great at warming me up - my house and the place where I work are both freezing! I think hot Vimto is quite a Manchester thing, because I've never heard of anyone making it with warm water anywhere else...
Misc.
Fleetwood Mac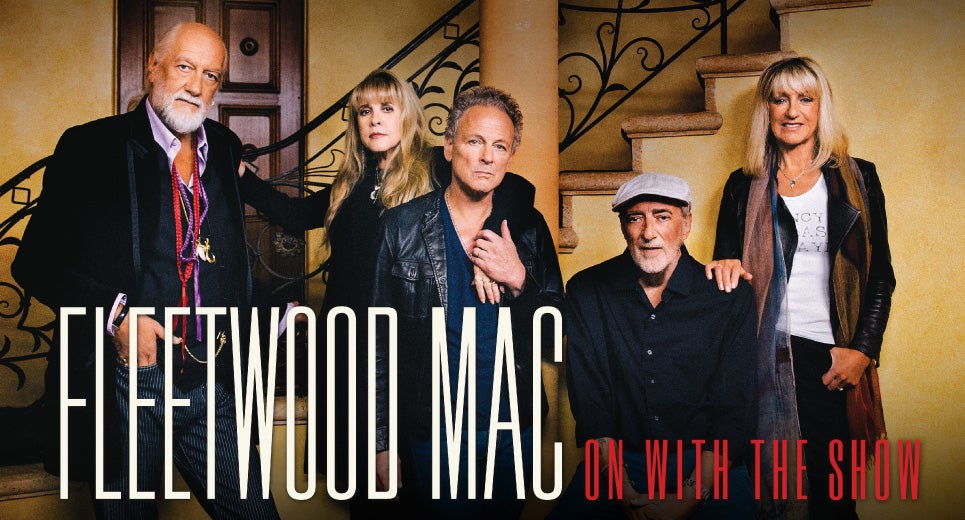 This is definitely not a new favourite; I've pretty much been brought up on these guys. And, at the beginning of the month, I got to see them for the second time. It was so good to finally see Christine McVie back in the band; a lot of her songs are my favourites. I just can't describe how immense they are live, and the atmosphere of the venue when it's filled with thousands of fans. I took a few pics over on my
Instagram
if you fancy a nosy.
So that's it for my monthly favourites! Really need to get on top of blogging regularly in the future, I've missed this!