Back again! Another month, another list of favourites...
Clothes and Beauty
Wilko Makeup Brushes
Source: life.wilko.com
I think I have to give my sister credit for this one, as she was the one who pointed these out to me. Now don't throw away your Sigma or Real Techniques just yet, they're not that good. But for the price, I'm pretty damn impressed. My sister has quite a few, but I decided to buy a
blusher brush
(which was only £2!) as my usual powder brush is just way too big for my face. They're soft and lovely; such a great value for money! They wash well and don't shed at all and although I am slightly skeptical of some of the brushes in the collection, their powder and eye brushes do the job just as well as any more expensive counterpart.
MaxFactor Facefinity All Day Primer
Hiding at the back of my makeup haul...
This is a new purchase for me, and can be found in this month's
makeup haul
post. I was slightly concerned that I'd wasted my money with this - I wasn't sure whether it was something I needed in my makeup collection and I hadn't read any reviews prior to purchase. But I can't argue with the facts: this stuff really works. It has a bit of a weird texture on your fingers, but once applied it has a soft finish without feeling silicone-y (if that makes sense?). It makes foundation last all day which, as someone whose face somehow eats up foundation, is perfect for me.
Books
Yes Please

I went for the audibook version of Yes Please, and was really glad I did. Having Amy read her book to you makes it feel more intimate, and it also features some great special guests. I listened to this primarily whilst travelling, but also late at night in bed because I couldn't stop myself. I'm not usually interested in memoirs, but this one is different. It's just so interesting to read/listen to. I'm almost tempted to go out and buy the actual book...
Film/TV
Jurassic World

Well, this one was going to be an obvious favourite, wasn't it? I'm going to put it out there: I didn't like it as much as the original Jurassic Park. But it was still great, and I love a bit of Chris Pratt. It's a rare occurrence for me to see a film twice in the cinema, but I think I want to go and see it again. Just got to get my dinosaur fix!
Orange is the New Black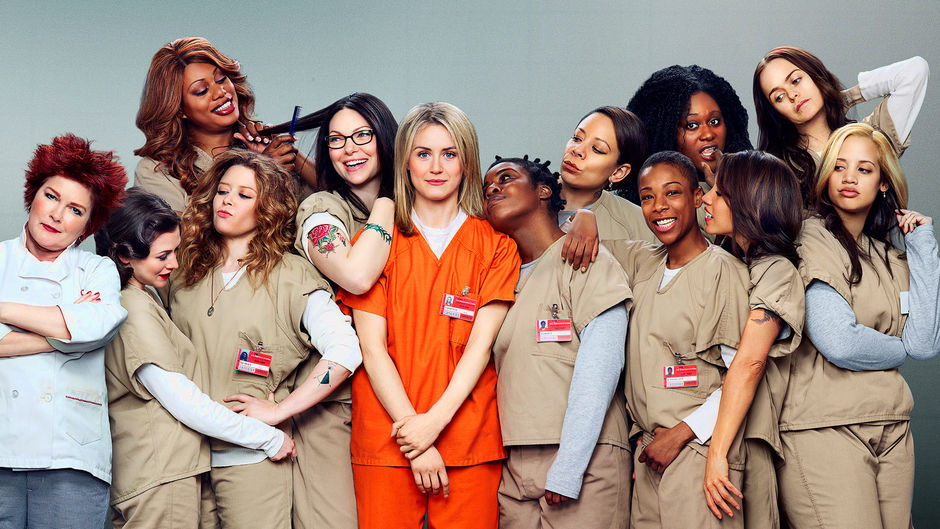 I was so excited for the new series of Orange is the New Black, that I actually tried to pace myself with the episodes so that I didn't binge watch them all at once. I think the supporting characters are what makes this show so good (urgh, Piper), and I loved finding more about them this series. I know there weren't many huge dramatic moments that there have been in the previous seasons, but that's why I liked it. I'm already counting down the days until series 4!
Food
Tracker Bars (white chocolate)
I have to admit: I'm a snacker. I have problems with eating and often have to spread out my food to avoid getting too full. I hadn't eaten a Tracker bar in years, but picked up a box of white chocolate ones because they were on special offer. And now they're my savior. Why did I not know that the white chocolate version existed? It's so much better than normal chocolate. It's a cereal bar topped with chocolate chips and peanuts; not the most healthy of options but obviously better than eating a chocolate bar. And they aren't too big either, which really helps when I'm having problems with dysphagia. I probably need to find a healthier alternative, but for now I'll be carrying these around with me in my bag!
Misc.
Buster Activity Colouring Books
I've always loved colouring. In my first year of university I bought a whole bunch of colouring books, but by second year I'd pretty much stopped completely. Towards the end of my final year of university I bought
The Girls' Princess Colouring Book
as a way of combating stress as I finished my dissertation. More recently, I purchased two more. These are obviously made for young children, but the illustrations by Ann Kronheimer are so beautiful and detailed. They're printed on good quality paper, meaning that you can use felt tips should you wish, and are only £5 each on Amazon. I picked these more girly titles (there's a huge selection on titles) because I really enjoy colouring people and clothes. They just have some wonderful pictures to colour in and I especially like the
Fashion Through Time
one because it has historical costumes from all over the world. I also bought myself, after months of umming and ahhing over it, the
Enchanted Forest
colouring book, although it looks almost too beautiful to colour!