Another month down! This month was my birthday month, and I really had a lovely time. It's not been very beauty-heavy recently, so my favourites are a different from the usual...
Clothes & Beauty
Witch Daily Primer and Clearing Serum
(available
here
)
I seem to have quite a few primers on the go at the moment, but this one is currently my favourite. I received it in my April
Blogger Beauty Box
, and have been using it ever since. I swear it actually has cleared up my skin! It feels so light and fresh. I've had some troubles using it with matte foundation and a damp beauty blender, but other than that it's great!
Fat Face Hampshire Jacket
(available
here
)

I think this is one of the best impulse purchases that I've ever made. I was at the Trafford Centre looking for a new rucksack and came across this jacket on sale in Fat Face. I usually go up a size with coats, but a 12 fit perfectly with enough space to be able to wear woolly jumpers underneath it in winter. I have worn my old parka to death ever since I got it when I was in sixth form - my Mum has been willing me to get a new one. This one from Fat Face has loads of useful pockets in it and it's lightweight whilst being warm and rainproof. And for £50, I was pretty pleased with myself.
Herschel Pop Quiz Rucksack
(available
here
)
I got this for my birthday from my parents - I was in dire need of a replacement for my old Jansport Rucksack. I would have been happy with just another of the same, but Jansport is really difficult to track down in the UK! This rucksack is just as good, if not better. I love the different compartments and a padded sleeve for my laptop. It feels safe inside but doesn't take up the whole bag. It's great for when I'm travelling, and means I can take my laptop when I'm staying with Kris.
Film & TV
The Great British Sewing Bee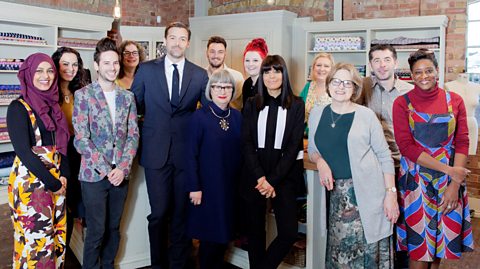 Yeah, I'm a sucker for a BBC talent show (I've got no interest in something like Britain's Got Talent). Although sewing interests me more than baking, I think Sewing Bee comes second to Bake Off. But I still love to watch it. It makes me feel so crafty, and want to get my sewing machine out. We're only two episodes in, but I know I'll get hooked and root for one of the contestants with such fierce passion!
Misc.
My New Phone
As an early birthday/having my contract extended at work present, I decided to get a new phone. I used my birthday money to pay as much up front as possible and got a Samsung Galaxy S7. I was slightly nervous about making the change from iPhone to Android, but am loving the new phone so far. I've decked it out with a screen protector and sturdy case; it's the first contract I've took out for myself so I'm paranoid about damaging it! It's got an amazing camera, loads of space for music and videos, and the battery is a million times better than my old iPhone 5c. It feels like such a first world problem, but sometimes it's annoying how long the battery lasts. It's made my portable charger redundant!
VQ Retro Mini DAB+ Radio & Bluetooth Speaker
(available
here
)
Right back at the beginning of the month I won this in a giveaway ran by
Bloggeration Magazine
on their
Twitter
. It was such a pleasant surprise, and it was great to win something so useful! I always like digital radios, but I love that it also has a bluetooth speaker with an aux port in it. It plugs in, but works with AA batteries in it to make it completely portable. Perfect for the summer! I won one with the Emma Bridgewater polka dot print, which coincidentally is my favourite from the whole selection of colours!